Get Fit Anywhere
Exercises
How to Buy
About the Gear
FAQ
Testimonials
Testimonials from TargitFit Users
I am 28 years old and I just want to tell you how happy I am with the TargitFit Pro Trainer results. After trying other workout programs and not getting any results, I was introduced to the TargitFit Pro Trainer. At the beginning I wasn't taking this class seriously because of my previous experiences with other programs, but after seeing results I was encouraged to keep going and trying harder. I do the Targit program only four times a week, for only one hour each day. The Targit Trainer has helped me keep my weight under control. I have lost 20 pounds and 4 pants sizes and am also more toned since I've started. I am still using the Targit Trainer consistently and am satisfied with my results!
Claudia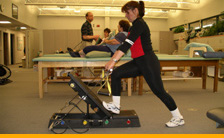 I am 57 years old. I started using the Targit Training System in April of 2004. The first year with the TargitFit Pro Trainer I went from 235 lbs down to 200 lbs—with a tremendous increase in both my energy level and strength and have found that any body part that I need to work on is possible with the Targit Trainer. In the past year I have put back on 10 lbs, with all of my measurements staying the same as they were at 200 lbs. This tells me that I am building muscle with this system. I could not be more pleased with the quality of workouts that I get on this machine and as a plus it stores under the bed. The TargitFit Pro Trainer is one of the best investments that I have ever made.
Dale
I was 242 lbs with a 42 inch waist. My doctor told me that I had to do something to get into shape. In six weeks I went down—my waist is down to size 36 and my body weight has dropped from 242 to 212 pounds. Those are amazing results for me. I love the TargitFit Pro Trainer. I work out three nights a week and I can't exercise without it now.
Doug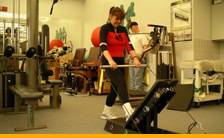 I'm 25 years old. I started using the TargitFit Pro Trainer in 2000, and have been using it ever since.When I had my first baby (in 2000), I was 20. I wasn't that old, but I always struggled with loosing weight and keeping it off. I actually tried any and every diet I read or heard about, and honestly nothing lasted more than 3 months. I had gained 45 lbs with my first baby, so I decided to hit the gym and try exercising. That is where I first saw the Targit Trainer. I hadn't ever worked out seriously in my entire life, but I felt Targit working immediately—I was sore every time I worked out! At first I thought I wasn't loosing weight, but I found I was building muscle, which weighs more than fat. I never worked on building muscle before and found that building and maintaining that muscle was burning the fat right off. After about a year, I looked better than before I had my baby. In 2004, when I got pregnant with my second baby, I was still able to work out on Targit. The resistance Targit uses was so easy on my joints and overall helped keep me in shape during the second pregnancy. I gained 40 lbs with my second baby, but I was amazed and how quickly I lost all the baby weight this second time around: in only 3 months! And I only work out three times a week with Targit. Now I'm in the best shape of my life. I have gained so much self esteem because I can see my results and I look good and I feel great—even after having 2 kids! Lots of mothers out there think they don't have time to work out, but the TargitFit Pro Trainer made it possible for me to work out at home, because it is so compact and portable. It changed my life. I'm more confident because of my TargitFit Pro Trainer. It worked for me and it's going to work for you.
Itsuki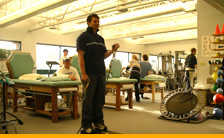 I'm actually a free-weights convert. I had been working out with free weights three times a week for over 10 years to maintain weight loss and tone up. I'm one of those people who has a hard time changing once they find something that works. I'd rather stick with my "plan". Even though I work at a gym, however, I was finding it hard to make time for a work out. Sure, there was "down time" every day, but it seemed that the minute I left the front desk, someone would walk in or the phone would ring. That is when I decided to try Targit. I knew it was compact and could be easily transported, so I grabbed one out of the cardio room and brought it behind the front desk—an area no bigger than 10'X 6'. I quickly set it up as I'd seen the instructors do and, following the user's manual so I could do the exact same work out routine I'd been doing all those years with the weight equipment, I was soon working out. After only two sessions, I no longer needed the manual—it was that easy to learn. And because of how easy it is to move from exercise to exercise, I actually shaved 10 minutes off my routine. I have since quit free weights and am now using the TargitFit Pro Trainer 100% for my resistance workouts three times a week. Because of knee problems and surgery a few years back, I was never able to do squats in the weight room, but I've been able to do them from day one with Targit. Using TargitFit has helped me maintain my weight, continue to tone up, and I've even been able to overcome some sculpting plateaus I'd run into before using Targit (I am proud of my new, defined calf muscles!). So now Targit is my "plan"—and I don't foresee changing it in the near future or ever.
Lisa
I've been using the TargitFit Pro Trainer for rehab. I like using the Trainer because it takes pressure off the joints. I've been a physical therapist for over 25 years and I've been using elastic tubing with various resistance of this type. It keeps the patients' movements safe and effective, unlike free weight training which is impossible to compare to training with TargitFit because the TargitFit Pro Trainer doesn't impinge the joints.
Rick B.
I'm soon to be 43 years old. At 39 I was looking for an alternative way to workout and achieve a healthy lifestyle. Rapidly approaching my 40th birthday I was in desperate need of a home gym. I researched all the possibilities before I was introduced to Targit. There is no comparison to what Targit could do for me or, for that matter, anyone. My body didn't need a pounding, but it needed to come alive. Targit's resistance training and free range of motion was perfect. Over 100 exercises and a bar for free weight simulation was incredible. Years of football had put a great strain on my body, but Targit did not put stress on my joints and tendons. Targit focuses on the muscle, not the joints. Portability was also a deciding factor, for I can take it anywhere without compromising space. On the road, in my house, or out on my deck, I can work out anywhere, any place, any time. My 40th birthday was a great day: 55 lbs lighter, 6 inches smaller in the waist, and a sculpted body. Thanks Targit for changing my life!
Scott M.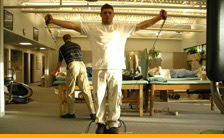 I'd been hitting the same plateaus in my bodybuilding. Then the TargitFit Pro Trainer was brought to my club as an experiment and I thought I'd see what it was all about. So I tried a class and I was hooked--from the very first class that I tried. And it's actually helped me break through some plateaus that I've been reaching. The TargitFit Pro Trainer has made an incredible difference in my training. The difference is a lot of the exercises I do, the weight I use, goes beyond what the joints and tendons can typically handle. The TargitFit Pro Trainer allows me to break through the plateaus I had using the free weights and machines. I still use the free weights, but I've incorporated the TargitFit Pro Trainer in with the rest of my work out and it has taken me further than any other regimen.
Sheri R.
We have two TargitFit Pro Trainers at home. What this has done for me is amazing. I have muscles I didn't know I had. I have toned in areas that I didn't think was possible and I just love it. I'm going on a cruise in a couple of weeks and I'm going to be able to wear a two-piece bikini—and I'm over 40!
Rebecca