Shorter days, colder temperatures…winter is on its way and the holiday season is coming with it. It can be festive and fun, but the holidays are also notorious for interfering with health and fitness. We asked health and nutrition expert Helen Sanders to share some advice on using fall to kick-start your fitness and weight loss plans: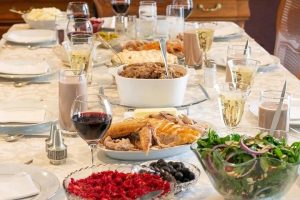 Healthy eating is often tossed aside during the holidays. Christmas and Thanksgiving usually include gut-busting turkey dinners and endless holiday parties. It can also be harder to motivate yourself to work out once the summer shorts and tank tops have been tucked away in your wardrobe for yet another year.
However, instead of being a time for winding down, fall can be the ideal time to get proactive and kick-start your fitness regime before the holidays even start. Weather conditions in the fall can be much more comfortable than the snow, rain, and ice of winter. Plus, there's the added bonus that the gym will not be full of the post-Xmas part-timers when you visit in the off-peak fall season. So Why wait until January to make a resolution to get in shape? There's no time better than now!
Get Out and Enjoy the Scenic Outdoors

In many parts of the U.S., fall is the most beautiful time of the year. A stunning array of autumnal colors make this an ideal time to go for a run, bike ride or even a brisk walk. Use the parks and countryside to your advantage for your fitness routine and enjoy this wonderful time of year while getting fit.
The change in season also brings about a change in climate, with temperatures often cooling down rapidly from the summer highs. Exercise can often be more enjoyable when you are sweating less but don't have to layer up just yet. As it gets cooler, investing in breathable, moisture-wicking clothing can prevent having to peel the layers off as your blood gets pumping.
Experts in kinesiology have found that weather conditions can encourage or deter physical activity. Bad weather can actually be a barrier to physical activity, but exercising and being outdoors in nature have also been found to boost your mood. If you're enjoying yourself, you're more likely to stick with your fitness plan.
Take Advantage of Lower Prices

With fewer people trying for that beach body and most new year's resolutions forgotten, fall is a quieter period for many gyms. Fall can be the perfect time to take advantage of the discounts and incentives offered by many gyms to attract new members. If you prefer a traditional gym workout, now could be the ideal time to join before the colder winter months see a gym membership rush.
Fall could also be the ideal opportunity to save money on that new bike you may have been eyeing all summer. Mountain Bike World Magazine says fall is often the best time to buy a new bike. Many bike manufacturers bring out their new models in September and will heavily discount the previous year's models to clear them. 

Enjoy the Harvests of Fall

A healthy diet is an important part of any fitness plan. With autumn comes a wide variety of fresh seasonal produce full of the vitamins, minerals, and antioxidants needed to fuel your body as you workout. A hike or bike ride could include a trip to the local farmers market to sample the fall harvest. You could also save money by buying local fresh produce at this time of year.
New Season, New Schedule

The kids going back to school after the long summer holidays can leave many of us with free time to fill. This provides the perfect chance to try that new gym or take up a new hobby which may help with fitness plans. Maybe a salsa dance class or a martial arts course can help revive your workout sessions.
Fall can also be a time when the TV schedules feature a return of many of your favorite shows. Try doing a few ab crunches or lunges while binge-watching episodes of Yellowstone or discovering what you missed with Netflix's Schitt's Creek.

After a long, hot summer, fall can be the best season to kickstart your fitness regime. By starting your plan early you will be free to enjoy the holiday season with fewer feelings of guilt. A little extra work now means not having to worry about a few extra calories here and there throughout the holidays plus, you can look stunning in that little black dress when the Christmas party season starts.
Helen Sanders is chief editor at HealthAmbition.com. Established in 2012, Health Ambition has grown rapidly in recent years. Our goal is to provide easy-to-understand health and nutrition advice that makes a real impact. We pride ourselves on making sure our actionable advice can be followed by regular people with busy lives.