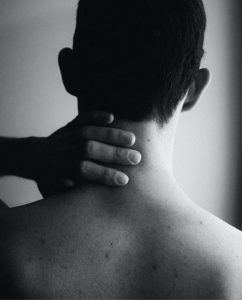 Neck injuries can be sudden, or they can creep up on you. Maybe you wiped out on your rollerblades and, other than a scraped elbow and some overall soreness, you didn't think you were injured. Then, after an aggressive workout a couple of months or even years later, you start experiencing pain and weakness in your shoulders and arms and possibly tingling in your hands. While it could be a new injury brought on by the workout, it could also be the old injury coming back to haunt you if your fall caused a disc in your neck to herniate.
A cervical herniated disc, also known as a bulging disc, isn't a condition that will go away quickly on its own, especially if you continue to try to push through the pain and work out. A short break from some exercise is required, and you should absolutely see a doctor or chiropractor for treatment so you can recover as soon as possible.
Injuries Not Required
Sports injuries, like a rollerblade wreck, can easily cause a herniated disc. However, Spine Health reveals that those pesky discs can spontaneously start bulging for no apparent reason in people over the age of 30. However you acquire the condition, the result is the same. The inner, gel-like core of a disc sitting between two vertebrae squeezes out and presses up against the nerves in your spine. Because of the tight fit between your neck and spinal cord, it doesn't even have to be much of a bulge to cause pain to run down your shoulders, through your arms, and into your hands.
Treating a Herniated Cervical Disc
You might try to tough it out for a day or two, but the pain that's a symptom of your condition will likely have you calling the doctor. That's all for the best because the sooner you get treatment, the sooner you can get back to life as usual. Whether you consult a medical doctor who specializes in treating the spine or a chiropractor, either will likely prescribe rest from strenuous activities for at least a few days–maybe longer, depending on the severity of your condition. Giving up your workouts can be almost as hard to deal with as the pain, but relieving the pain is top priority and will mean you can get back to exercising.
As for actual treatment, WebMD says that conservative, nonsurgical treatment is usually the first thing doctors recommend and, unless the injury is severe, it's best to try to avoid surgery. Over the counter medications are typically sufficient for relieving inflammation and pain, but your doctor may prescribe something stronger if aspirin or ibuprofen aren't cutting it. He might also fit you with a soft collar to apply traction to your neck. That will draw the vertebrae apart enough to pull the bulging disc away from your spinal cord. Your doc may also refer you to a physical therapist to learn some exercises that will protect and strengthen your neck, or he might even show you how to do them himself.
Exercises to Avoid, Exercises to Do
No. You read that right. Part of your treatment for a bulging disc in your neck is exercising, but not necessarily the hardcore, heavy resistance you're used to. According to LIVESTRONG, during recovery you should avoid activities that put pressure on your neck, arms, and shoulders, as well as ones that strain your spine in general. You'll probably find it next to impossible to lift your arms over your head when you have a herniated cervical disc, but you shouldn't be lifting anything over your head with that condition anyway. If not being able to exercise makes you crazy, do some cardio on the elliptical. Because it's practically zero-impact and you remain erect while working out on an elliptical machine, it's the preferred way to exercise with a neck injury. A stationary bike is fine, too, as long as you remain upright and don't lean forward. Doing so puts you in a position to crane your neck back, which will aggravate the injured disc.
But what about these exercises that your doctor will want you to do?  HealthLine lists a few neck-friendly exercises and stretches including
head lifts
chin tucks
neck extensions
lateral neck bends
neck rotations
scalene stretches
Doctors and physical therapists alike have found MacKenzie exercises to be effective for helping eliminate pain from the extremities so the disc can become better. Unfortunately, herniated discs don't really heal, although you can manage them with proper exercise and lifestyle modification. Yes, that means you may not be able to compete in powerlifting meets anymore and will have to do your neck stretches and exercises as often as you do a resistance workout. If that means your disc will slide back and stay where it belongs, leaving you pain-free, it's worth it.
Strengthening Your Neck
Take advantage of the times when your herniated disk isn't acting up by incorporating neck-strengthening exercises into your routine. Building up the muscles in your neck and shoulders will support your cervical spine to minimize opportunities for the disk to bulge again. According to Bodybuilding.com, some effective exercises are
barbell and dumbbell shrugs
front dumbbell raises
side lateral raises
Even if you favor free weights as your preferred form of resistance, consider working out with resistance bands the first couple of weeks after your doctor has released you to exercise again. Bands are as effective as iron but won't be as stressful on your neck, shoulder joints, and tendons.