What you eat (or don't) is essential for weight loss, muscle-building, and overall health. Unfortunately, we've been trained to view the word "diet" in a negative light. To most people, it's synonymous with deprivation, bland food, and never enjoying a meal again. But what if eating healthy can taste just as good—or better!—than the junk food you think you crave?
Foods like lean meat and vegetables are good for you and including them in your diet will provide more culinary satisfaction as well as some awesome fitness and health benefits. For example, lean beef is a nutritional powerhouse that provides nutrients for building muscle which will, in turn, help burn fat. In fact, even the act of eating and digesting the protein in a slab of prime rib burns about 30 percent of the calories the steak contains, according to PrecisionNutrition. Plus, it's chock-full of B vitamins as well as vitamin E, calcium, magnesium, zinc, iron, and even the muscle-building all-star creatine. How's that for justifying a gratifying gourmet meal?
We'll even do you one better. How about serving up a beautiful prime rib dinner that includes a mouthwatering mound of pumpkin gnocchi? The pumpkin in the gnocchi gives the meal added weight loss and health benefits. First of all, WebMD reveals that it's low-calorie but full of fiber, so it will help you feel fuller longer so you can say "no" to a high-calorie dessert after dinner. Plus, pumpkin boosts your immune system to help with recovery after working out as well as protect you overall from disease, and it boosts eye health, lowers the risk of cancer, and been shown to reduce blood sugar levels.
So Good, It Tastes Like You're Cheating
You probably don't need more convincing, but maybe you're not exactly a gourmet chef. Good news, ravenous readers, Jen Miller over at Jen Reviews recently posted an easy-to-follow recipe for balsamic prime rib with pumpkin gnocchi. Delicious as it is healthy, it could very well be the perfect meal. Try it once and it's guaranteed to become your go-to menu for special occasions or whenever you need a break from less-tasty diet fare without using up a cheat day.
Balsamic Prime Rib with Pumpkin Gnocchi
Ingredients
For the Prime Rib
1

section of Prime Rib

60

ml

olive oil

60

ml

Balsamic vinegar

5

ml

fresh ground black pepper

5

ml

Himalayan salt
For the Pumpkin Gnocchi
1

kg

of cubed pumpkin

220

gram

of "00" Flour

1

egg

5

ml

of sea salt

125

ml

grated Parmesan

125

ml

fresh cream

250

ml

chicken stock

60

ml

butter
Fresh parsley and your choice of vegetables to serve.
Equipment:
Heavy bottomed frying pan, oven tray, large pot, sharp knife, slotted spoon, cutting board, ricer or masher.
Instructions
For the Beef Prime Rib
Preheat oven to 120 degrees Celcius / 248 degrees Fahrenheit / Gas mark 1/2.

Season the Prime Rib with freshly ground black pepper and Himalayan salt.

Lay the Prime Rib section in a dish and pour the olive oil and Balsamic vinegar over it. Flip it over and make sure that the marinade covers the whole surface.

Put aside for at least one hour at room temperature or in the fridge overnight.

Heat a heavy bottom frying pan over a high heat and seal the Prime Rib.

Put in an oven tray and cook for one hour.
For the Gnocchi:
Preheat oven to 160 degrees Celcius / 320 degrees Fahrenheit / Gas mark 3.

Line an oven tray with aluminum foil. Spread the pumpkin cubes out in a single layer. Place in oven and bake until soft, but not mushy.

While the pumpkin is still hot put it through a ricer or mash with a potato masher.

Mix one egg and the flour until a dough forms. It should not be sticky, but not too firm.

Set the Gnocchi dough aside to rest while you bring a large pot of water to the boil.

Divide the dough into four pieces and roll each piece into a sausage about an inch thick.

Drop into the boiling water and remove once the Gnocchi comes up to the surface.

Fry in butter until the Gnocchi starts to brown.

Stir in the half cup of grated parmesan followed by the cream and chicken stock.

Adjust seasoning to taste.
To Serve:
Serve with your choice of vegetables. Garnish with fresh parsley.
Step 1: Preparation
Read through the entire recipe and have all your ingredients together.  The real secret to a successful dish is preparing properly before cooking even starts.
When making Gnocchi be sure to familiarise yourself with the other steps of the recipes and prepare everything at the right time to make the process as enjoyable as possible.
Step 2: Marinade the Prime Rib
Remove the Prime Rib section from any packaging.  Season the meat thoroughly with freshly ground black pepper and Himalayan salt.  Place the Prime Rib in a dish and pour the Olive Oil and Balsamic vinegar over the meat, making sure to cover all of it.  Set aside for at least one hour at room temperature or leave overnight in the fridge.
Step 3: Prepare the pumpkin for making Gnocchi
Line an oven tray with aluminum foil and spread out the cubed pumpkin in a single layer.
Bake at 160 degrees Celcius / 320 degrees Fahrenheit / Gas mark 3 in a preheated oven until tender.  This may take up to two hours. You don't want the pumpkin to darken too much so be patient.
Once the pumpkin is ready, put it through a ricer or mash it immediately.
You will have approximately 400 gram of mashed pumpkin.
Step 4: Preparing the Gnocchi
Stir the egg and flour through the mashed pumpkin to form a soft dough.  The dough should not be sticky. Add small amounts of flour at a time if necessary.  Allow to rest while a large pot of water is brought to a boil. Salt the water generously.
Divide the Gnocchi dough into four and roll into sausages about an inch thick.
Using a floured cutting board will make this easier.  Cut into thumb-sized pieces.
Use a fork press into each piece lightly to make shallow indentations.
Working in batches, drop the Gnocchi into the water.  Remove immediately with a slotted spoon when the pieces rise to the top.
Step 5: Cooking the Prime Rib
Heat a heavy bottomed frying pan until it is smoking hot.  Working quickly, start with the fat cap and seal all sides of the section.
Place the section in an oven tray and place in a preheated oven at 120 degrees Celcius / 248 degrees Fahrenheit / Gas mark ½ for one hour.  The outer strip of meat should now be a beautiful pink medium-rare. The different parts of the section will cook at different paces, with the meat closest to the bone taking longer to reach temperature than the outside layer.
Use a meat thermometer to be certain.  For Medium-Rare you need to reach 55 degrees Celsius or 130 degrees Fahrenheit.
Cover the tray with a piece of aluminum foil while it rests.
Step 6: Finishing the Gnocchi
Once the meat is resting heat the butter over a medium heat.
When the butter is starting to bubble add in the Gnocchi and fry until golden.
Stir in the half cup of grated Parmesan followed by the cream and chicken stock.  Adjust seasoning to taste.
If you choose to serve vegetables with the meal, ensure now that it is hot and ready to be served.
Step 7: Bringing it all together
Start by slicing the meat away from the bone.  Next portion off the outside layer meat under the fat cap.  The Ribeye may be cut in half for shorter slices. Proceed to slice the meat.
Portion the Gnocchi between six plates.  Arrange the sliced beef on top and garnish with freshly cut parsley.
Tips:
To prepare an entire standing rib roast marinade as per instruction. Instead of sealing off in the pan preheat the oven to 220 degrees Celsius or 428 degrees Fahrenheit.  Cook for 5 minutes before turning the heat down to 120 degrees Celcius / 248 degrees Fahrenheit until the internal temperature of 55 degrees Celsius / 130 degrees Fahrenheit has been reached.
This recipe first appeared on JenReviews.com.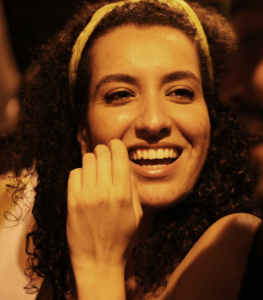 Jen Miller is a former electrical engineer and product specialist with more than 20 years of product design and testing experience. She has lived in multiple countries around the world including the United States, France, Australia and New Zealand. She founded Jen Reviews to share her knowledge and critical eye for what makes consumers tick, and adopts a strict no-BS approach to help the reader filter through the maze of products and marketing hype out there. She writes regularly and has been featured on Forbes, Fast Company, The Muse, The Huffington Post, Tiny Buddha, and MindBodyGreen.