Right now, we're at a point in time when proper nutrition is more vital than ever. Even if you've never been told to your face that how you eat affects your health, you already know somewhere deep inside that it's true. Just consider how you feel physically and emotionally after a junk-food binge. Those feelings are your body trying to tell you what you wouldn't accept from anyone else. Maybe in the past, you simply didn't feel like changing. But in a world where you can no longer hug your friends in greeting and have washed your hands raw, maybe you don't have the luxury anymore to be stubborn. It's time to start taking a closer look at what you eat and incorporating healthy foods that will reduce stress and boost your immunity.
First Stop: the Produce Section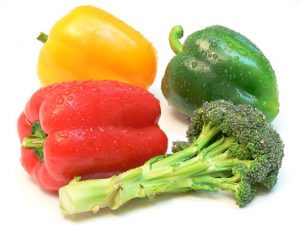 You can't go wrong with fruits and veggies, in general, but when you're aiming to strengthen your immune system, you'll want to include ones packed with specific antioxidants like vitamins  C, A, and E, beta carotene, and allicin. For those, red bell peppers, broccoli, spinach, sweet potatoes, and citrus fruits are the superstars. Mushrooms are known as a source of Vitamin D, good for keeping your body's T cells functioning properly and optimally, and the palatable fungi also activate white blood cell production and mobilize them to fight infection. Berries tend to be loaded with antioxidants, too, and blueberries do double-duty, hitting both lists of immune-boosting foods and foods that reduce stress. Garlic, ginger, papaya, and kiwi are other foods you'll find in the produce section that will help ward off illness.
Meat=Good
It might come as no surprise that fish—specifically the cold-water oily type associated with Omega-3's—is recommended eating for a strong immune system. Tuna and salmon are the typical types of fish that get good press in this case. Some of your favorite shellfish, however, are loaded with zinc, another antioxidant that fights sickness and increases immunity. When you dine on clams, crab, lobster, mussels, or oysters, you're also giving your immune system a boost.
If you're not a big seafood fan, don't despair. Both poultry and lean beef are vital for a healthy immune system. Chicken and turkey provide Vitamin B6, essential for fighting off viruses and, since it's a good source of zinc, beef is a delicious alternative to shellfish.
Dairy Foods for Immunity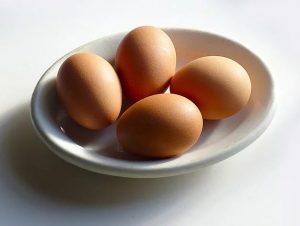 When you hit the dairy aisle, be sure to snag a dozen eggs and some yogurt. The live cultures in yogurt have been found to stimulate your body's natural defenses. Plus, both eggs and some brands of yogurt contain Vitamin D. Be sure to read the labels to be sure you're getting products fortified with Vitamin D, so you know you'll reap the benefits this vital vitamin provides in strengthening and regulating your immune system.
Snack on This
Even what you nosh on between meals can help build immunity. Sunflower seeds and almonds are good sources of Vitamin E, an essential antioxidant that protects cells. Almonds also bring other essential immune-boosting nutrients to the table like fiber, manganese, and magnesium. Another tasty nut you should be sure to add to the mix is walnuts. They'll add polyphenols and Omega-3 fatty acids good for cutting immune-depleting stress. Whole grains, specifically oats and barley, are superfoods when it comes to immune-strengthening capabilities. Studies have found that the specific fiber they contain (beta-glucan) helps increase immunity to serious illnesses including influenza and anthrax. Taking all this into consideration, you'll probably want to whip up some tasty trail mix or granola. The terrific thing about this type of snack is that you can use whatever nuts you want to and add in some sunflower seeds and even some dark chocolate chunks for good measure to optimize your immune system's effectiveness.
Washing it All Down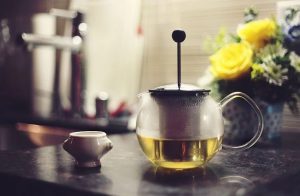 Drinking water and other fluids flush toxins from your body, so it's vital to stay hydrated when you're healthy as well as when you're sick. Water is great for cleansing your system, but drinks such as orange juice or tea contain antioxidants and other nutrients that bolster the immune system. Citrus juice, such as orange, provides Vitamin C, and green and black tea provide antioxidants. What's more, green tea contains an amino acid (L-theanine) that has been found to decrease inflammation and increase germ-fighting capabilities in your cells. On the other hand, you could also opt for turmeric tea, a spicy beverage that contains curcumin that acts as an anti-inflammatory that also activates and regulates T cells.
Put it All Together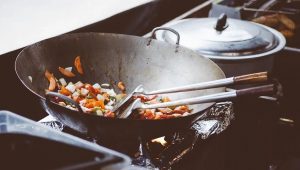 Looking for a way to incorporate a load of these foods into one meal? Whip up this healthy stir-fry for dinner, then finish with dark-chocolate dipped berries or a dark chocolate chunk oatmeal bar. Nobody said boosting your immune system can't be delicious.
Immune-Boosting Stir Fry
Ingredients:
1 lb chicken or beef, cut into 1-inch cubes or 1 ½ – 2 lbs of crab
2 inches peeled ginger, sliced into 12 pieces
1 large bunch broccoli (1 lb), florets trimmed and cut into 1 ½-inch pieces
1 chopped scallion
1 red bell pepper, diced
1 small sweet potato, peeled and diced
1 lb maitake, shiitake, or reishi mushrooms, stemmed and quartered
2 cloves garlic
2 Tbsp peanut or olive oil for frying
Sauce:
1 c cold water or ½ c cold water + ½ c cooking sherry
2 Tbsp cornstarch
2 Tbsp soy sauce
1 Tbsp oyster sauce (optional)
Directions
**If you're using crab, clean it and cut it into pieces. Pat it dry with paper towels, then place in a large bowl. Toss with 1 to 2 Tbsp corn starch to coat, then proceed with frying step.
Whisk the sauce ingredients together and set aside.
Heat wok or frying pan over medium-high heat, then add oil. Allow oil to heat before adding meat and frying until pieces are cooked. (The beef will brown; the chicken will no longer look pink; the crab will turn red.) Remove meat from pan with slotted spoon to strain out excess oil and set aside.
Place vegetables in hot wok, replenishing 1 Tbsp of oil, if necessary, starting with the ginger, scallion, and garlic, and frying for a couple of minutes, until aromatic, then add in the rest of the veggies. Stir as the mixture fries and when the mushrooms start to reduce in size, add the meat back in, continuing to work quickly to keep the mixture stirring as it cooks.
When the broccoli is crisp-tender, pour the sauce mixture into the wok. Continually stir until the sauce boils and thickens, coating the meat and vegetables generously.
Remove from heat and serve over rice or noodles.