There are over 25.4 million home gyms in the U.S., according to Statista.com's most recent count–and that number has likely gone up this year alone. Whatever your motivation for working out at home, there are a few pieces of vital fitness equipment home gyms require. They can vary, depending on what your workout style and goals are but, overall, the same essential pieces show up on all the lists.
Join the Resistance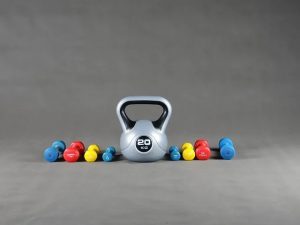 No matter what your fitness goals are, whether they're losing weight, gaining muscle or a combination of both, resistance fitness equipment for home gyms is essential. If you can afford commercial quality, there's no reason not to buy it, especially if you're a bodybuilder and need access to serious tools. For most people, though, the dumbbells, barbells, weight plates, benches, and even kettlebells that BreakingMuscle.com lists as home gym essentials should suffice. Plus, practically all of it can be found at sporting goods stores and online.
Chin Up, Old Chap
Even people who pay for a health club membership include bodyweight exercises in their workout routines. They're doubly valuable in a home gym because they provide variety without breaking your budget. That's why pull-up bars are Stack's home gym essential equipment pick. Use a variety of grips to do pull-ups, or work your abs with hanging leg raises. If your pull-up bar is movable instead of permanently attached to your wall or ceiling, Stack says you should also be able to use it to do incline push-ups and dips.
Band Together for a Dynamic Workout
"Lifestyle Medicine, Second Edition" recommends resistance bands as a controlled mode of resistance because they're safer, easier on your joints and tendons, and don't require a spotter on hand to get you out of sticky situations. Make no mistake: the bands you'll need for your home work out center aren't flimsy, over-sized rubber bands. The ones you want are thick and substantial and come in a variety of lengths, widths and resistance capabilities, according to Bodybuilding.com .
Opt for the All-In-One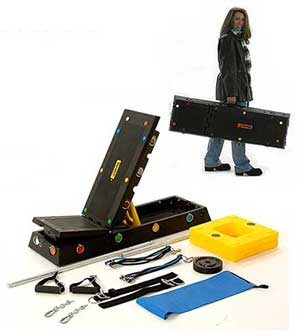 The one piece of fitness equipment home gyms need to be able to do almost any exercise you can do at the health club is the TargitFit Trainer Bonus: it uses bands for resistance. In fact, it comes with 220 pounds of resistance, but can be upgraded to over 400 pounds. It also includes all the accessories you need to perform over 115 club-quality exercises — including squats! It can even be used as an aerobic step, and everything packs neatly away into the Trainer itself for easy storage so you won't have to give up significant square footage to create a useful home gym.