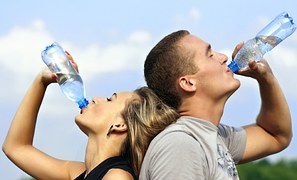 Everyone from doctors to personal trainers to health and fitness blogs preach how vital it is to consume enough water every day. There are many formulas for calculating just how much water "enough" is. For example, one common formula is to multiply your weight by two-thirds and the answer is the number of ounces of water you should drink each day. Alternatively, you could reference the Recommended Nutrients table published by the Institute of Medicine of the National Academies of Sciences. The advice you'll find there is general, but based on scientific study. However, actual water requirements vary by individual and are subject to your metabolism, activity level, and environmental conditions. Your best bet for accurately figuring a personalized recommended water intake might be to use Bodybuilding.com's Water Intake Calculator. At least it figures in your activity level.
Just knowing that you need water and how much of it you personally require is only half the battle. You have to actually consume the necessary fluid. If you're among those who don't particularly enjoy drinking the unexciting, flavorless liquid, there are alternative ways to ensure you stay hydrated, and many of them are quite tasty.
Fruit Juices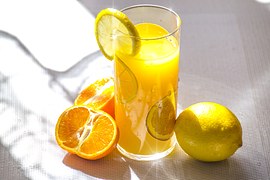 Juicing essentially removes the water from fruit, with the included bonus of a delicious taste as well as a dose of nutrients, and who doesn't appreciate a drink that multitasks? The vitamins and minerals you get from juice will depend on which kind of fruit it comes from, but you have plenty of choices out there from orange to apple to pomegranate. Even ades made from citrus fruits are terrific alternatives to water, but Health Status recommends using actual fruit to make lemonade or limeade instead of a drink mix. Just place the juice from six to eight limes or lemons in a pitcher and fill it with boiling water. You'll want to be conservative at first and adjust the actual amount of the water to fit your taste. Take off the fruit's bitter edge by sweetening with agave nectar. Chill, then serve your fruit-ade over ice.
Coconut Water
Coconut water is another way to hydrate and get a few extra nutrients. According to Skinny Ms., pure coconut water is packed with more potassium than bananas, plus it contains five electrolytes essential for your health. A study published in the Journal of the International Society of Sports Nutrition found that coconut water was just as useful for re-hydrating after a workout as bottled water and sports drinks, proving that coconut water isn't just a fad. It's actually a valuable way to get part of your daily fluid intake.
Cuppa Joe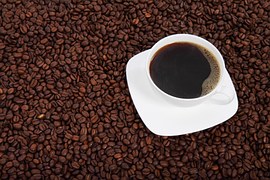 Outdated studies are responsible for coffee's reputation as a diuretic. Turns out that the data wasn't complete. More recent studies such as the one published on PLOS|one showed that if you routinely consume caffeinated drinks, your body has essentially learned how to deal with caffeine and drinking it won't negatively affect your level of hydration. We've gone on and on about the nutritional and health benefits of coffee such as reducing muscle pain after a workout, helping to burn fat, providing a load of antioxidants, and Home Grounds lists many more. Now you can add to those benefits the fact that your morning (or afternoon) cuppa can count toward your daily fluid intake.
DIY Sports Drinks
Addicted to your sports drinks? That's OK because they're providing your body with electrolytes as well as hydration. They can get kinda spendy, though, and even though they're supposed to be good for you, many contain sugar and additives that you might not want in a "healthy" drink. The Daily Burn's solution is to make your own sports drinks, using fresh ingredients and low glycemic sweeteners such as agave. One of our favorites is quick and easy to mix up. Just combine the juice from oranges and lemons with coconut water for a Gatorade-like beverage that is healthier than the original.
Eat Your Hydration
Oh, did we forget to mention that water you get from the foods you eat can officially count toward your daily fluid intake? Develop Good Habits advises eating foods with high water content to increase how much fluid you get on average, which can typically be around 20 percent of the total amount you need. Cucumbers, iceberg lettuce, celery, strawberries, and, of course, watermelon are all foods that are more than 90 percent water, making them excellent alternatives to drinking water for staying hydrated.