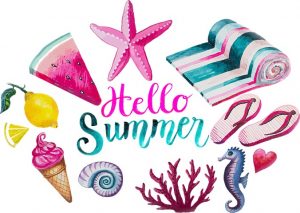 This year, no one is waiting for summer to officially start–everyone's hitting the road. If you've been looking forward to travel, that's good news for you, but it's usually bad news for your fitness and weight loss goals. An unofficial survey on TripAdvisor showed that people typically gain between 2 and 5 pounds during summer vacations with most saying that they give themselves a vacation from exercise and watching what they eat when they're on holiday. Plus, some commented that they had a hard time getting back into their regular schedules once they got home, contributing to even more weight gain after vacation was over.
There's nothing wrong with giving yourself a break when you head out on vacation, provided you are committed to resuming your healthy eating habits and workout regimen when you get back home. It's certainly fine to treat yourself during meals and not worry about an extra beer or glass of wine while on vacation, but you'll be able to justify it easier as well as help keep extra pounds off if you get some exercise while on holiday. It's easier done than you think and, when you still fit in your "normal" clothes after vacation, you'll be glad you did.
Make Your Bodyweight Work For You
Men's Fitness maintains that an old-school bodyweight workout is a good way to hold onto the progress you've made even on vacation. Bodyweight exercises don't require specialized equipment or much room to do them in–most can be performed even in a small hotel room. Start with a selection of plank exercises like a basic plank and a one-arm plank, also called a "seagull." Other effective bodyweight exercises to put into a vacation routine include:
pushups
single leg squats
windmills
ab lunge twists
Use Your Surroundings
Incorporating exercise into your vacation time can be easier for some people if they do something different than typical working out. The Washington Post says using your surroundings is a great way to work a unique exercise regimen into your vacation time. Take advantage of the good weather and beautiful surroundings by running or doing yoga on the beach. Headed to the mountains? Bring your bike along or rent one where you're staying and take an evening ride. No matter where you vacation, walk everywhere you can. You'll get to see the sights and burn some calories at the same time.
Bring Some Equipment Along
Some people would prefer to stick to their usual workout even when they're not at home, but the fitness facilities in many hotels don't have the equipment they need. That's when taking your own equipment comes in handy, but if you're into lifting heavy, that's not necessarily doable. Comprehensive band equipment like the TargitFit Trainer is the answer. Everything you need to do gym-quality exercises–including 220 pounds of resistance–is packed into an easy-to-carry case. Portable workout equipment like the TargitFit makes it easy to keep exercise in your schedule, even away from home.