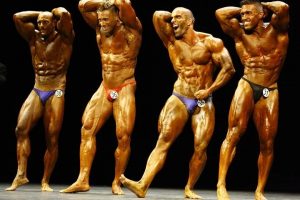 Think you have what it takes to compete in a bodybuilding, physique, powerlifting or other fitness-based competition? Even if you don't right now, you might enjoy the challenge of preparing for a contest and seeing how far you can go. No, competing isn't for everyone. You can't be too sensitive or self-conscious, and your self-worth can't be tied to your physical appearance. Yet, you have to be confident and believe you can do well while carefully balancing the ability to take constructive criticism and ignore the haters who just want to insult you for the sheer joy of tearing someone else down. If you can handle that part and want to give competing a shot, here are the basics on how to get started.
Pick a Competition and Show
The first thing you need to do is decide what kind of competition you want to compete in. Are you into powerlifting? Maybe you have great genetics and want to show them off in a bodybuilding contest. Physique contests are a newer addition to the bodybuilding competitions that don't require contestants to have the extreme muscularity that traditional bodybuilding meets do, according to AsktheTrainer. That's not to say that physique contests are easy to win, but they might be a good starting point for someone who has never competed before or who has a hard time packing on muscle mass.
Once you know what kind of competition you want to enter, start looking for upcoming shows that are about a year away. That will give you time to train and prepare. Search the Internet, ask around at the gym, or query other people who have already competed in similar competitions to find out about shows in the near future. Oxygen recommends looking for local shows when you're starting out because:
they'll be smaller than national shows
the competition is more likely to be on equal ground with you
you won't have to spend a fortune on travel and accommodations
it will be convenient for family and friends to attend and support you
Also, take a look at how many other novices will be competing in any show you're considering. A show with a good number of beginners like you will pit you against others who are on the same level.
Develop a Program
Over the next year, you will need to train in a specific way so you can get into proper/optimal shape for the competition you want to enter. There are a million ways you can develop a program for yourself, from reading books to following experts' training plans to consulting with a professional trainer. The best approach would be to incorporate all of those to arrive at a truly personalized program that will take you from your starting point to being competition-ready. Remember, the plan you create will need to change with you and as the competition grows nearer. It should be developed to accommodate building and cutting phases (obviously, "cutting" won't be necessary for powerlifters) as well as include an off-season plan so you can stay in shape and continue to improve for future competitions.
Don't Train in Vain

All your hard work will be for naught if you don't also include dieting as part of your plan, and this, too, depends on what competition you will be entering. Powerlifting competitors have it good when it comes to that part of the training because they don't have to be hyper-focused on watching fat and carb ratios. Physique, bikini, and bodybuilding contestants, on the other hand, do need to worry about such things. Beverly International is a terrific resource for fitness competitors of any type because they offer advice on diet, supplements, and even workouts tailored to your specific goals. The advice is free but, of course, the supplements are not. =D
Other Details
You want to go into any competition you enter looking like you've done it a million times before, so you need to be aware of the numerous other details associated with most contests. Bodybuilding.com has a comprehensive checklist that takes you through an entire year of getting ready for a competition. Some of the things you might not have thought of include
journaling to keep track of your progress as well as your mental/emotional state
picking your posing-wear
learning what poses are mandatory and working them into a routine
taking pictures of yourself a couple of times each week throughout the year
It would also be helpful to get with someone who has experience competing or judging the type of show you will be entering. They can help evaluate your physique and give advice on weak areas you need to work on.
Most of all, enjoy the journey!