A lot of the time, it's lack of knowledge that stands in the way of reaching fitness goals no matter what they are from trying to lose weight to building muscle. Hiring a personal trainer is one way to get direct access to the knowledge and experience you need, but have you thought about attending a fitness conference?
Every year, different fitness organizations from IDEA Health and Fitness Association to the American College of Sports Medicine to World Spinning and Sports Conditioning hold 3 to 4-day conferences focusing on everything new and exciting in the fitness world. Professionals such as trainers, health club owners, aerobics instructors, and dieticians are the obvious type of people who usually go, but many conferences, such as the one hosted by the WSSC, allow anyone to attend. As long as you're registered, you can take in as many lectures, demonstrations, or workshops as you want to. With all that knowledge and insight, you'll be more prepared than ever to reach your goals.
What Can I Learn?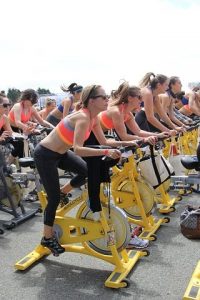 You can learn practically everything you've always wanted to know about health and fitness at a conference, depending on which one(s) you attend. The Spinning Experience expo centers around spinning and conditioning classes, so you'll get to try out the newest spinning, Zumba, and other classes. Others, such as the ACSM Summit offer a number of lectures and workshops in addition to workouts and personal training classes. If you opt for ACSM's Summit, you can learn about nutrition trends, designing diets, and weight management along with exercise as medicine, as well as how to promote health and wellness at work.
How Do I Find a Conference?
There are a ton of ways to find a fitness conference, starting with an Internet search. If you are looking for a specific type of conference, such as one that focuses on Jiu Jitsu, be sure to include that in your search. If finding a conference close to you is important, look for ones in your state or states nearby. Maybe you'd like to make a holiday out of it and travel to an exotic location–that's fine because many conference promoters enjoy holding their expos in Hawaii or the Caribbean.
Alternatively, you can talk to local health and fitness professionals to see which conferences they are aware of. Doctors, dieticians, personal trainers, and even PE teachers have the inside scoop on upcoming events because they are on all the mail lists. Even if the person you talk to won't be attending, you can still find out the when, where, and who to contact for a conference you're interested in.
What if it Changes Your Life?
Well, it should. If you are serious about attending a fitness conference, you're at least going with the goal in mind to get back on track with health and fitness. You may come away with a whole new direction for your life, though. A seminar on personal training might inspire you to become a personal trainer. A vigorous conditioning class might make you want to teach similar ones at a local gym or in your own studio. You may even become interested enough in sports medicine or nutrition to go back to school and get a degree that could open doors to an entirely new career. Even people who are already in the health and fitness industry have come away from a conference motivated to embark on an exciting new path that benefits others as well as themselves.