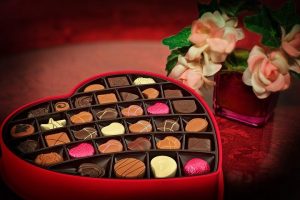 When you have a sweet tooth, having to forgo your favorite treats is torture if you're trying to lose weight. The good news is that there are a number of sweet things you can snack on that won't work against you. In fact, there are some that will actually help with your weight loss goal. How awesome is that? This Valentine's Day, satisfy your craving for something sweet and still stay on track for losing weight.
Honey Almonds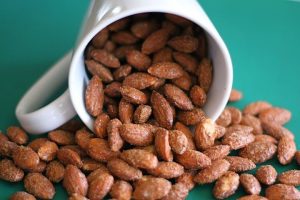 If your downfall is sweet and crunchy snacks, honey roasted almonds will be your go-to treat. The almonds provide protein and fiber, both of which are essential for weight loss. The weight loss secret to this treat, however, is in the honey. A study in the Journal of American Nutrition found that honey has an appetite-suppressing effect, so you'll feel satisfied faster and won't feel hungry again for awhile.
Chilly Cherries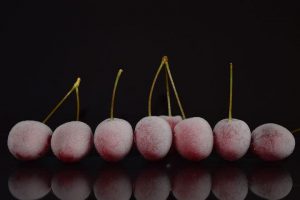 No, not chili cherries–these are frozen, not spicy, and will help you lose weight because they're low in calories and full of fiber, according to LIVESTRONG. An important part of this snack is to freeze the cherries. That will encourage you to eat them slower (no one likes brain-freeze!) plus, Prevention says that it makes them taste like an Italian ice.
Skim Milk Shake
There's a reason supplement companies build their products around sweet-tasting foods, and that's to help you trick yourself into eating what you should while enjoying it. It's the enjoying it part that some drop the ball on, but there are a few protein shake mixes out there that taste great. Beverly International's chocolate and rocky road Ultimate Muscle Protein shakes are good examples. Mixed with a cup of skim milk, both taste rich and decadent, giving you a real chocolate milk or milkshake experience while sneaking in necessary protein and nutrients. As you know, eating protein helps curb your appetite plus it actually burns calories to digest it, so you get a two-fer when you opt for a protein shake.
Want an energy-boosting trick to enhance a cardio session for more fat burning? Mix the Muscle Provider with 1/2 cup of skim milk and 1/2 cup of cold coffee left over from breakfast. It will taste like a Frappucino, and the caffeine in the coffee will give you the oomph you need for an effective workout.
Berries and Yogurt
Opt for Greek-style yogurt for this snack to cash in on the extra protein. It doesn't hurt, either that the yogurt will provide healthy bacteria to keep your digestive system working optimally for weight loss. The berries bring the actual "loss" factor to the table. Research published in the Journal of Agricultural and Food Chemistry found that the anthocyanins in strawberries, blueberries, and many other berries stop your body from storing fat.
Chia Seed Pudding
Chia seeds' secret weapon is that they're high in fiber, so they'll fill you up and keep you feeling full. In fact, according to Healthline, just 2 tablespoons contain almost 40 percent of your daily fiber needs. They are a bit heavy on calories for such a small amount, but that shouldn't matter if you stick to one serving and factor it into your total daily calorie count. A simple recipe for the sweetly satisfying pudding is to mix coconut or almond milk with chia seeds and a splash of vanilla and let it sit overnight in the fridge. Alternatively, DailyBurn has a collection of chia seed pudding recipes to appease your sweet tooth.
Don't Forget Chocolate!
Valentine's Day and Chocolate go hand-in-hand–can you really have one without the other? The good news is that you don't have to, even if you're working on a fitness and weight loss resolution. According to Prevention, chocolate is healthier than we've traditionally been led to believe. Moderately indulging in chocolate offers benefits ranging from improved memory to lowering bad cholesterol, keeping blood vessels healthy, and reducing your risk for diabetes. A good, quality chocolate, in general, should provide the positive results you're looking for in a healthy sweet treat, but dark chocolate appears to be associated with the most health benefits, including aiding weight loss. It's been found to cause you to feel full faster and longer and also reduces how much carbs and fats you digest and absorb.