TargitFit Pro Trainer at Home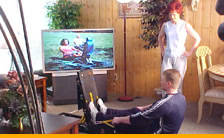 The TargitFit Pro Trainer has many different applications. As a home training machine, nothing can beat it. You can work out just about anywhere in your home.
The TargitFit Pro Trainer has a very small footprint—less than four square feet—so if you want to bring any additional Trainers in for a group training session, working alongside your friends or family, encouraging each other while doing the same exercises at the same time, now you can.
Group training is a fantastic way to stay motivated. Try adding a little music to your work out and watch the fun and intensity levels go up!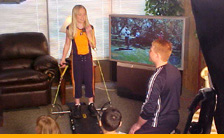 The TargitFit Pro Trainer is fully self-contained and with over 115 different exercise at your disposal, you have everything you need to blast your body to new levels of fitness. It can be used to improve your strength, overall cardiovascular endurance and flexibility and improve bone density. It can also lower your cholesterol and blood pressure and increase your metabolism. Not to mention how much better you're going to look in your clothes and make any physically demanding job a lot easier.

We encourage everyone to add variety to their workouts. The TargitFit Pro Trainer in addition to all your fitness activities will help make it easier to stay healthy and happy for the rest of your life.
Remember, the whole idea behind getting in shape and staying there is having fun in your workouts. Supplementing the Targit Fitness System into your lifestyle will achieve this. The Targit Trainer is easily hidden and stored.