TargitFit Pro Trainer with Sports
Convenient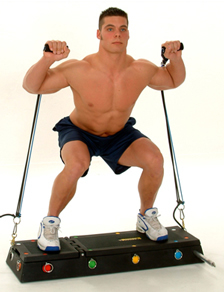 Whether its on the field, in your locker room, or our own home, you can use your TargitFit Pro Trainer anywhere you go. Never miss a work out again.
Safe
As competition approaches, don't let your body get pounded with free weights and machines. Give your joints and tendons a rest and avoid the risk of injury by training with us.
Variety
Add an assortment of different exercises to your training. Escape the rut of doing the same old exercises every day. The TargitFit Pro Trainer will put a new lift in your training program with more than 115 different exercises. You'll never get bored.

Travel
Avoid the inconvenience of ill-equipped weight rooms in hotels and the hassle of finding a near by gym to train in when traveling. Save valuable time and money by training in your own room with your own TargitFit Pro Trainer. Just throw your TargitFit Pro Trainer in the trunk of your car or check it as baggage on a plane with our convenient travel bag. You'll always be able to stay in great shape, no matter where you are.
Supplement
Use the TargitFit Pro Trainer as a supplement to your work out. Your recovery time will be decreased, meaning your strength gains will increase more rapidly. This will enhance your performance, giving you the edge that you need in competition.